Customer Update - 24/09/2020
Like all Pubs and Restaurants, we will be closing each evening at 10:00pm.
We ask all clients to ensure they bring a mask when they want to walk around the pub.
We will be offering table service and we are of course still ensuring we're following all government guidelines with regard to social distancing.
We really appreciate your continued support.
Many thanks Caz & Kev
WE ARE OPEN AGAIN - SAFETY IS OUR PRIORITY

During the lockdown we have made a fantastic dining area at the front of the pub. All tables are fixed at two metres for social distancing , in fact all tables inside and out are at two metres. As a business I will be following strict Covid rulings for everyone's safety. We are able to accommodate 150 people plus  all socially distanced .
We are cooking from 6pm on Saturday and will offer a full Sunday roast service on the Sunday .
Booking a table is a must as we will be operating table service only.
We can't wait to see everyone so please support us and we'll do our upmost to keep everyone safe at this very difficult time.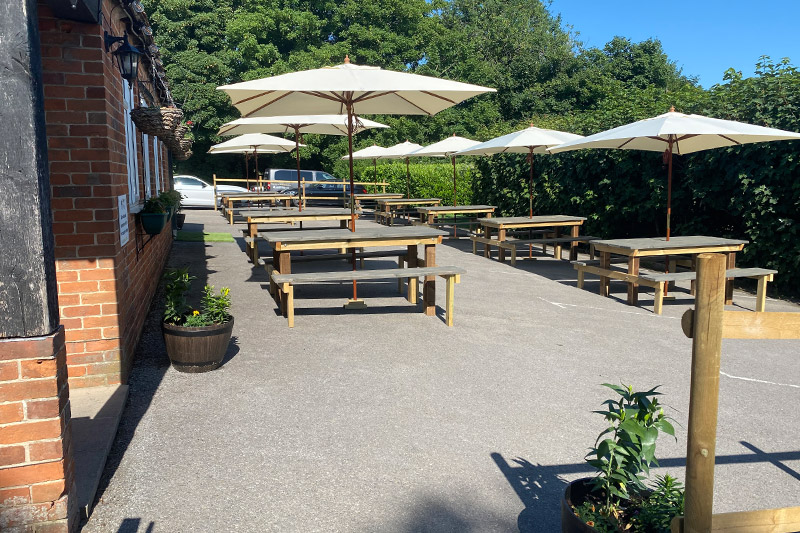 We're  sticking to two metres, your safety is more important than our profit
Customer Update - 15/09/2020
NEW MENU NOW AVAILABLE - View Menu
Due to a major malfunction with our Pizza Oven we will be unable to produce pizzas for the foreseeable future.
We apologise for any inconvenience
Welcome to the Spotted Dog
The Spotted Dog is located in the popular village of Cold Ash near Thatcham, Berkshire. Now back in the hands of Kevin & Caz, they offer a warm welcome to everyone in their family friendly pub and restaurant. The Spotted Dog has a large private car park & newly enclosed garden and playground, safe for children & dogs.
Open daily, we serve a selection of real ales & a variety of wines, spirits & soft drinks. We offer locally sourced, fresh home cooked food, with a menu produced by Head Chef, John Cowan, that delivers a great selection of food; from light bites to a full 3 course meal.
NEW Diners Club
Join our diners club and for every six main meals you have, your seventh will be FREE
Available Monday - Saturday
Senior Citizens Club
Join our Senior Citizen club and for every six meals you have the seventh will be FREE
Available Monday - Saturday